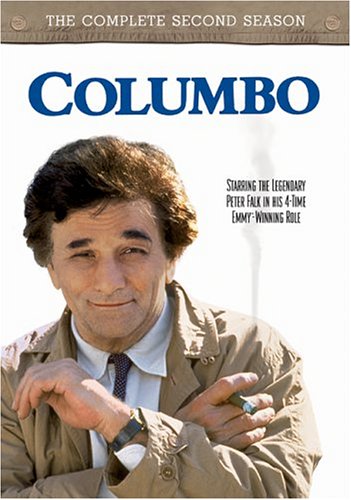 Season 2 of Columbo brought us some great episodes, guest stars, and plenty of memorable performances.
I wanted to get this set for two episodes, "Requiem for a Falling Star" and "A Stitch in Crime". I'm happy to say "Requiem" did not disappoint. Anne Baxter's terrific as faded screen star Nora Chandler and plays off the other cast well. The other guests in the episode include Mel Ferrer, Kevin McCarthy (it's hard to look at him seriously after watching UHF), Pippa Scott (who, by the way, was one of the people who founded Lorimar), and legendary film costume designer (and longtime friend of Baxter) Edith Head in a cameo.
"Stitch" was good too, though I thought Columbo would've become suspicious of murderer Dr. Barry Mayfield (Leonard Nimoy) sooner since in quite a few scenes Mayfield yells at Columbo to stop visiting the recovering Dr. Hidemann (Will Geer), but that's minor. As many have said, Nita Talbot is memorable in a small role as victim Sharon Martin (Anne Francis)'s roommate. Dr. Mayfield is probably one of the coolest, calmest murderers on the show (an effect of Nimoy playing Mr. Spock for three seasons, possibly?), and is one of the only murderers to incite a loss of temper from the normally super-polite Columbo.
"Etude in Black" is a good episode to start off the season, as John Cassavetes gets the job done well as symphony conductor Alex Benedict, who murders his mistress, a talented pianist. An amusing goof is present in this episode: When Columbo and Benedict's wife (Blythe Danner) are talking about the musical term said by Benedict, she says it's Latin. Of course, nearly all people who play music know that musical terms are in Italian. This episode also marks the debut of Columbo's beloved bloodhound, Dog.
I found "The Most Crucial Game" to drag on too long to maintain my attention (I'm sure someone my age in the early '70s would have a way longer attention span), plus it didn't help that I was sick when I first watched it, so my attention was already semi-diverted.
I did not get that with "Dagger of the Mind", one of the more infamous episodes due to its portrayal of the British that, according to British fans, is inaccurate (accents, etc.). Not being British, I don't really sense a lot of that. Wilfrid Hyde-White is amusing as the victim (John Williams, not the composer)'s butler, only appearing in scenes at their house (filmed in the U.S. due to White being a tax exile from Britain).
"Double Shock" excellently finishes off the season, with Martin Landau playing twins who detest each other and are persons of interest in their wealthy uncle's murder. This episode is a bit of a whodunit, since we have to figure out whether which (or both) twin(s) committed the crime. Julie Newmar puts in a good turn as the murdered man's free-spirited, much-younger fiancee who breaks the gold-digger mold when she asserts that she did not want the man's money. Jeanette Nolan is worth mentioning as the victim's neat freak housekeeper who gets clearly angry when Columbo's cigar drops ashes.
As with the first season, these episodes are excellently restored, with rich colors and little distracting grain. Music works well here, introducing new themes as well as bringing back some of the old ones from the previous season. A favorite theme of mine is the one near the beginnings of "Etude in Black" and "Requiem for a Falling Star". Very hypnotic in a way.
As well as the ones aforementioned, this season sees great guest stars like Myrna Loy, Ray Milland (in his second appearance), Robert Culp (in his second of many Columbo appearances), Valerie Harper, Dean Stockwell, Bernard Fox, Richard Basehart, Honor Blackman, Laurence Harvey, and Kevin McCarthy.
I heartily recommend this to any mystery fan. Cheers!