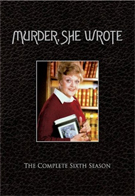 Another season of Murder, She Wrote is the subject of a review. This time, it's season six.
This season is a bit infamous as the season of "guest detective" or "bookend" episodes that starred a multitude of guest stars solving crimes instead of Jessica Fletcher. As a result, ratings sank. Clearly, Angela Lansbury was the star of the show, and viewers were not going for these episodes (although many viewers liked the episode "O' Malley's Luck", with Pat Hingle as amusing Irish Detective Jim O'Malley, and "Jack and Bill", with Ken Howard as an ex-football star-turned private eye who inherits his murdered friend's poodle).
In the episodes with Jessica in it, plenty of good mysteries feature. "Appointment in Athens", the season's opener, gets Jessica involved in espionage in Greece posing as the wife of Michael Haggerty (Len Cariou), while "The Big Show of 1965" has Jessica attending the dress rehearsal of a variety show reunion that was the scene of an unsolved 25-year-old murder.
Disc 1 includes the featurette "Recipe for a Hit", which features Angela Lansbury, Ron Masak, producer Robert F. O'Neill and others talking about how MSW was able to become a mainstay. "America's Top Sleuths" gives us a look at some of TV's other notable crime solvers.
Guest stars in this season include: Shirley Jones, Madlyn Rhue, Robert Vaughn, June Havoc, Hurd Hatfield, Johnathan Rhys-Davies, Carol Lawrence, Gene Barry, Cassie Yates, Hallie Todd, Keith Michell (as Dennis Stanton), Bill Maher, Ken Swofford, Johnathan Brandis, Farley Granger, Barry Van Dyke, Marty Ingels, Connie Stevens, Anne Francis, Gavin MacLeod, Pat Hingle, Edd Byrnes, Genie Francis, Brenda Vaccaro, Doris Roberts, and Elliott Gould.
Don't let the non-Jessica Fletcher episodes faze you, since the writing itself is in pretty good shape. The season after this would cut down on these episodes, with the exception of some Dennis Stanton-headed episodes.
Enjoy!